USB VOX 1.00 – USB SOUND CARD VOX COMBO
USB Sound Card and Vox Combo for Digital Modes (FT4, FT8, etc.)
Use it With uSDX and uBITX or Other Rigs
I have an UBITX V6 and uSDX transceivers which I use for digital modes QSO. For these I needed a simple and easy to use VOX system compatible with both Transceivers.
UBITX doesn't have a VOX unless it is programmed with KD8CEC's CAT capable firmware. uSDX has built in software VOX but I lately noticed that when VOX was activated there is a noise induced on RX signal which is compromising weak stations on digital modes so I decided to design my own external USB VOX dongle! This USB VOX Dongle can be used with any Transceiver, it is not limited with UBITX or uSDX.

This is what I came up with. I used a dirt cheap USB soundcard from Amazon. You can find this USB Soundcard almost all of the online electronic sites such as Ebay, Aliexpress etc.
Here is the link for the one I used from Amazon:
This USB Sound Card uses CM108AH Audio Codec chip which is compatible with most modern operating systems without a need for a driver. I tried on windows 10 and it works on all of my laptops.
I put together a simple opamp based VOX circuit which drives the PTT with a BS170 Mosfet Transistor.
Here is the schematic of USB VOX:

PCB Layout of USB VOX: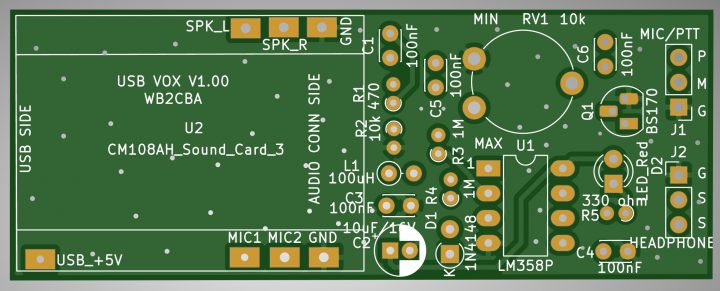 – First I soldered the PCB with parts in place:

– Then I used double sided tape to fix USB Sound card onto the PCB: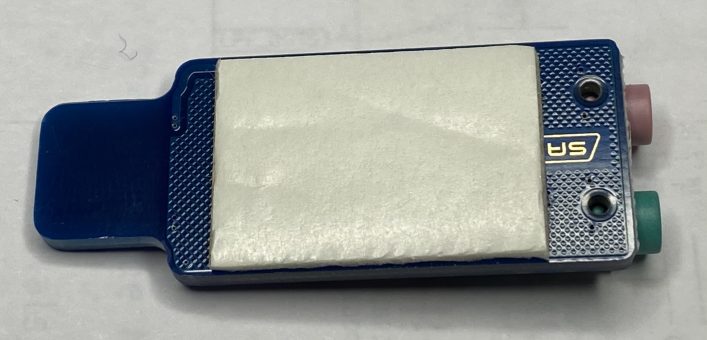 I scraped USB VCC to get +5V to the VOX circuit: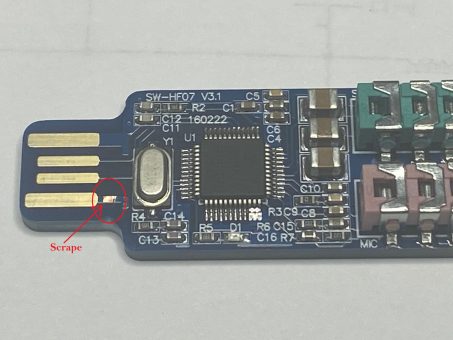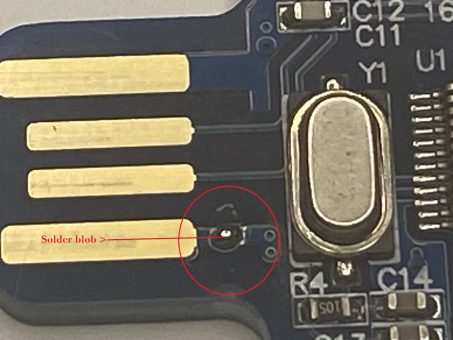 – Next step was to solder MIC1,MIC2,GND,SPK_L,SPK_R,GND and USB +5V pads to USB Soundcard as in the photo below:

I used a 1m(3ft) 3.5 mm to 3.5 mm auidio extension cable similar to the one in this link:
– I cut it into half from middle and soldered to USB VOX PCB output pads:

These outputs are:
On MIC/PTT Side:
M – Microphone
P – PTT( Push To Talk)
G – Ground
Headphone Side:
S – Speaker Left
S – Speaker Right
G – Ground
Connecting the speaker output of the Transceiver to either one of them is ok.
Also a short cable to USB + 5V pad to scraped USB Soundcard connection.
– To secure the cable connection to pcb I used hot glue: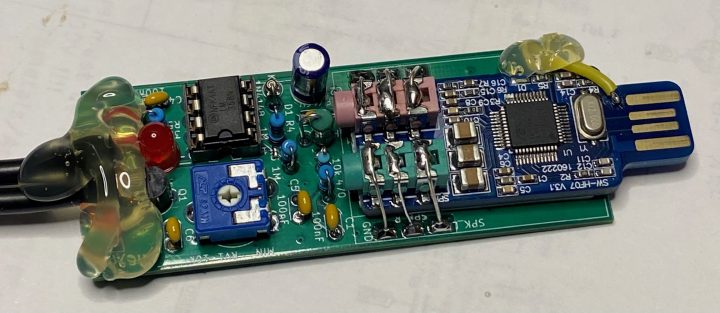 – This finished the USB VOX build. I wrapped the exposed pcb with Kapton tape to isolate from any shorts. It's ugly but works!  Heat shrink tubing will be a better solution I think.
Here is the finished USB VOX: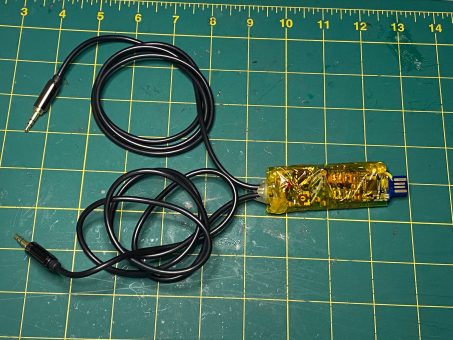 Tips on using USB VOX:
Mark the headphone and MIC/PTT cables with a colored tape or marker not to mix.
USB VOX goes into PC USB socket and cables to Transceiver MIC/PTT and Headphone or speaker output.
Adjust PC volume around %70 and keep the 10k trimpot on USB VOX pcb around half setting. At least that works for me. You can always adjust the mic output volume with the 10K trimpot.
On PC OS it shows as USB Pnp Sound Card.
LED is on when VOX is active meaning in transmit.
That's it! I hope you all enjoy using this crude and simple USB VOX dongle in your digital QSO!
Gerber files of the pcb is included in GERBER_USB_VOX_V1.00
Barbaros Asuroglu aka Barb , WB2CBA
NY 01/09/2021
3D Print Your Case
Thanks to Omer Guleray TB2BPO you can print your case for this project. You may download Vox 3D Printer Files here.